Facility
Where the magic happens!
Facility
Our Screen Print Facility Includes:
• 1-8 Color, 1-10 Color and 1-12 color automatic M&R presses
• 2-Manual 6-Color Print Presses
• 2-Inline Numbering Machines
• 2-Graphic Design Artist3
• 3 Direct to Garment printing machines
From basic 1-color logos to 4-color process or multicolor printing on dark garments, we can print your design with endless ink colors to match your school, team, league, or corporate logo. We also provide specialty inks such as glitter, metallic, and high density inks to achieve unique effects. Our shop is capable of producing up to 6,000 garments per day with up to 10 colors per design. Athletic numbering is available in 1 or 2 colors, ranging from 2 inches to 12 inches tall, and 5 different number fonts.
Our minimum order is only 10 pieces! Printing services are only available on garments purchased from Denver Athletic. When you buy from us, you are assured of getting a quality, finished garment that you will be proud to wear.
EMBROIDERY
Our Facility Includes:
• 2-Tajima 12 Head Machines
• 2-Tajima 6 Head Machines
• 1-Tajima Single Head Machine
• 1-Tajima 2 Head Chenille Machine
From basic 1-color text to multicolor logos to full front applique crest designs, there are very few limitations with what we can do. We can embroider your logo or design on hats, uniforms, polo shirts, and all outerwear items. We also offer an endless selection of quality brands of hats and garments to choose from with price points to meet every budget. We offer thread colors to match your school, league, team or corporate logo in regular flat or 3D raised embroidery to give that extra special effect. We also offer applique twill fabrics in team colors along with glitter and metallic for that unique look. Embroidery services are only available on items purchased from Denver Athletic so when you buy from us, you are assured of getting a quality, finished garment that you will be proud to wear.
TWILL, BANNERS, AWARDS, & DECALS
Our Facility Includes:
• 2-Laser Cutting Machines
• 4-Oversized Heat Set Air Machines
• 1-Rolland all in one Banner Printer and Cutter
• 4-Sewing Machines
Our twill shop prides itself with having the highest quality twill available for Athletic Uniforms and Outerwear. Our twill applique is hand-sewn on uniforms for numerous schools, teams and leagues throughout the state of Colorado. We also handle the University of Denver Hockey, Colorado College Hockey and the On Ice/On Field Jerseys for the Avalanche, Nuggets and Mammoth, along with the Colorado Rockies, plus retail jerseys for the Denver Broncos. We manufacture and laser cut all of our letters, numbers and designs in-house so every item is perfectly registered every time, and we never run out. Our quality and service is second to none.
Our banner machine can print a simple 1-color text banner or full-color process for teams, schools and corporate logos and designs so you can hang them outdoors on fences, rails, or in the gymnasium. The machine also manufactures helmet decals for baseball, football, hockey or any other sports helmets.
We have laser cutters not only to cut our twill, but to also laser-etch wood, acrylic and glass awards along with wine bottles and glasses.
Retail Store and Showroom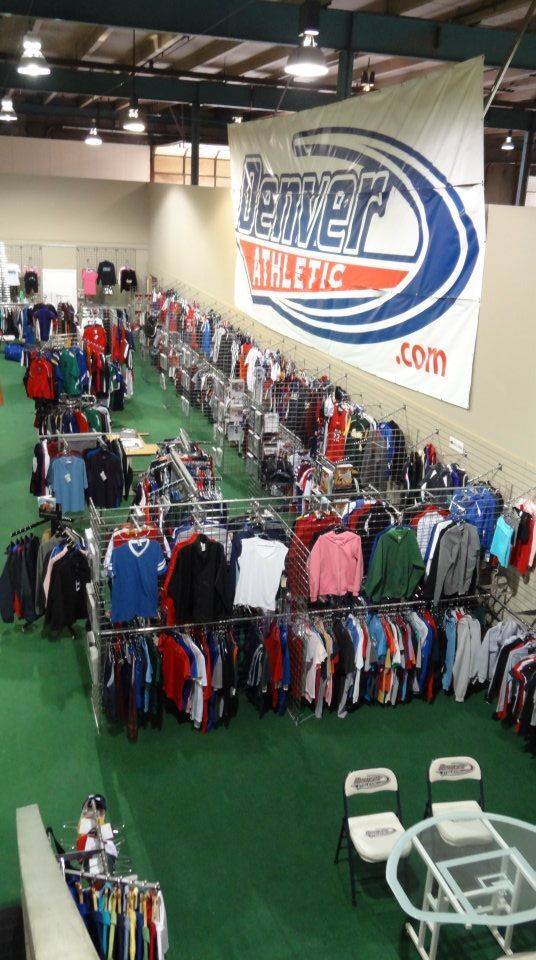 Whether you're coming in to pick up an order (and need some retail therapy) or you want to see the hot, new items we provide, our Retail Store and Showroom will not disappoint. This is also a perfect place to host your upcoming Team Night! Bring the team in for your fitting and receive discounts on all of our retail products! Our retail store is for your convenience and was developed for the serious athlete and the price-conscious shopper. Our Showroom is not only filled with the latest and greatest apparel from our awesome vendors, we also have samples to inspire PLUS catalogs to help you find exactly what you're looking for.